Main page | Links
---

Sweden - Sverige - Svedsko
under construction
Sweden is
sweat bread and salted butter - some of the first things that a visitor notices. Indeed they put sugar everywhere. You can find sweet mustard, sweet ketchup, sugar is in herrings ...
"Offentlighetsprincipen" - in Sweden, everybody has the right to read any public document, so the citizens can scrutineze the work of administration. It aslo means that anybody can know how much you earn ...
nature and "Allemansrätten" - the right to use nature (you can build your tent for one night - as long as you are out of reach of sight from a house, pick up mashrooms and berries etc. - but be aware of exceptions )
reindeers and Lappland - the very north of Sweden and Europe
Vikings and the great history of Sweden (Karl XII, Gustav Vasa ... )
"fika" - drinking coffee. The Scandinavian nations are some of the eminent consumers of coffee.Indeed, in most offices they have around 10am a coffe break.Don't come this time!(But the young generation doesn't like coffe so much)
"systembolaget" - the alcohol business is managed by the state and alcohol is rather expensive. The result is that Swedes never really learn to drink .... and when they start, they just can't stop. So they become very drunk.
"smörgåsborder" - table full of different kinds of food, you can take what you want and as much as you want
neutrality
kingdom (Carl Gustav, Silvia, Victoria, Carl Phillip and Madeleine Bernadotte)
music: ABBA, Roxette, Ace of Base
companies: Ericsson, SAAB, IKEA
art: Ingmar Bergman (director), Greta Garbo (actriss), Astrid Lindgren (writer)
Nobel Price
summer houses - many Swedes own or rent a summer house and they spend there many weekends and -of course- part of the summer
flag - very popular. I guess that at least half of the housing estates have the flag somewhere. And you can find it even on a Christmas tree.
and many others (Carl von Line, Olof Palme ...)
sittning - very special kind of party with drinking "snaps" and singing
artsoppa - yellow split pea(and pork) soup. When you eat it, you put a bit of sweat (yes, sweat) mustard ("senap" in Swedish) there.
Allemansrätten
- nature is open and free for everybody.
What you can do:
pick up flowers, mushrooms and various berries, tent over one night out of the reach of sight from a house, light a fire, fish in the sea (not with a mesh) and in five of the Swedish largest lakes (e.g. Vattern), swimm, travel by a boat and alnd somewhere (if nobody lives in the nearby)
What you must not do:
leave rubbish in the nature (when you leave it should be the same as when you came), kill or hurt animals (but you can kill a fish, before you eat it :), destroy trees or bush, pick up protected plants, go into someone's garden or field, make a fire on a rock (it destroys the rock) or when it's too dry (until you want to burn :)

Christmas ("Jul")
I have missed the Swedish Christmas, but there are few interesting things I know:
Something not coming from Sweden but very Swedish - on Christmas they watch the old cartoons with Donald duck.
They also have the same tradition as Germans (I'm not sure it isn't on New Year) - they watch "Dinner for One".
Some places in Sweden
Norrkoping
Is a beautiful town some 150km on south-west of Stockhlom and 50km north-east of Linkoping (20min by train). [Click on an image]

The "former industrial centre". You can see the river that was the source of power for many factories.

But Norrkoping is nice also by night. Notice the "candels" in the background (former chimneies).

The yellow building "cutting" the river is the famous museum of work.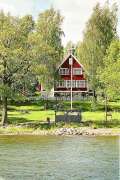 Besides industry you can find there nature too (but, of course, only with the river :)

Links
-see links on the page "Links"
---
created by Jakub Holy 2001 AD